All scholarships are saved until the recipient graduates from high school, at which time a check is presented for use in any of his/her further educational endeavors.
Award Category
Prize
7th – 8th grade winners
1st place: $125
2nd: $100
3rd: $75
9th – 10th grade winners
1st place: $150
2nd: $125
3rd: $100
11th – 12th grade winners
1st place: $250
2nd: $200
3rd: $150
Group winners
1st place: $300
2nd: $200
3rd: $100
Fred Nevius Award
$200
Kevin Kemp Award
$150
Roger Spivy Award
$150
Buddy Harris Award
$100
Persis Forster Award
$500
WHY DONATE???
Support Dance Theatre of Arlington
1. If others know that you individually, or your company support the arts, they believe that you or your company is broad minded and creative.
2. Every scholarship gives a helping hand to students to continue his/her education and career.
3. Partnering or Sponsoring Dance Theatre of Arlington will make your company look very culturally aware because it shows your appreciation for the arts.
4. DTA offers an opportunity for young performers to entertain live audiences which helps to prepare them for life challenges in the future.
***** Individuals who donate to DTA are angels and we appreciate your generosity more than you can imagine.

---
The Fred I. Nevius Award is funded by the Sundown Kiwanis Club for an outstanding solo or group performance. Winners receive a special medal and a $150 scholarship. All scholarship monies are awarded upon high school graduation. Winners' names are engraved on a traveling trophy endowed by the Sundown Kiwanis Club of Arlington. This trophy may be displayed at the winner's school for the following year.
---
The Kevin J. Kemp Award is funded by friends and colleagues of Kevin. This $150 scholarship and medal is awarded to an outstanding soloist. The winner's name will be engraved on a permanent plaque that is displayed at Dance Theatre of Arlington.
Kevin Kemp grew up performing in the Teen Follies. He taught himself to play the piano as a young child and became a brilliant pianist and arranger. A gifted dancer, he combined his talents to produce wonderful shows for Six Flags Over Georgia and Six Flags Over Mid-America. He wrote, directed and choreographed shows that touched hundred of thousands of people. He was the head Musical Arranger for the touring show Heartstrings. We lost Kevin on February 5, 1995, however, he is with us still through the music he left behind.
We are proud to honor him by encouraging another talented young person with the Kevin Kemp Award.
---
Roger Spivy was born on Broadway in Enid, Oklahoma and it proved to be prophetic, for he was truly a showman in every sense of the word. After playing George M. Cohan at Arlington High School, he was hired to perform at Seven Seas Amusement Park, as well as Cedar point in Michigan, doing six shows a day. He worked with John Davidson, Bob Hope and Richard Thomas in the Miss Teenage America Pageant and choreographed the Miss USA and Miss Universe Pageants.
As a performer, he shared the stage with (and went on several times for) Gregory Hines in Sophisticated Ladies in the U.S., Paris, Tokyo and Russia. In New York, he danced in 42nd Street and Me and My Girl. Las Vegas found him with Ann-Margaret and Doug Henning, and he was Stage Manager, and later, General Manager of Dance Theatre of Harlem.
For ten years, he was General Manager of New York Harlem Productions, touring operas such as Porgy and Bess through Europe and the Orient. Roger never stopped teaching and encouraging young people.
In his memory, those who loved and cherished Roger honor his commitment to the theatre and young performers with the Roger Spivy Award. This $150 scholarship and medal is awarded to an outstanding soloist.
---
DTA's third memorial scholarship has been added this year in memory of Buddy Harris, who was a talented teacher, choreographer, costumer and supporter of the arts in Arlington for many years.
Buddy was a member of and served as vice president of both Oklahoma Dance Masters Association and the Texas Association Teachers of Dancing, Inc. His professional performing career included tours with Red Skelton and the American Airlines SkyChefs show throughout the United States and overseas. He also worked with Casa Manana, The Dallas State Fair Music Hall, and choreographed the Miss Texas Pageant for many years. Buddy owned and operated the Buddy Harris Studio of Dance Arts in Arlington for 30 years.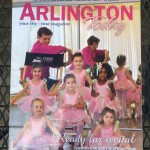 Her name is synonymous with the arts in Arlington and it is fitting that her many friends and former students have banded together to honor her with this special award. First awarded in 2013, it will serve to remind everyone of her many contributions to the education of young people in Arlington. Miss Persis came to Arlington in 1946 to attend North Texas Agricultural College (now UT Arlington) and, after graduating from University of Texas in Austin, returned to make a life, start a family, run a business and leave a mark on the community that will stand the test of time. Her accomplishments are too numerous to list here, but she directed the Teen Talent Follies for all but one year of the first 19 shows when it was sponsored by the Sundown Kiwanis! For more information about Miss Persis, see the recent article in Arlington Today celebrating 60 years in business!